Halibut and Baby Shrimp with Lemon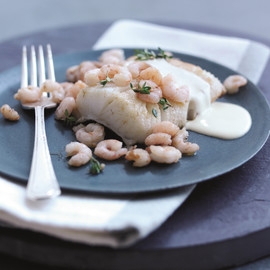 Ingredients
¼ cup Bertozzi Freshly Grated
2 tbsp olive oil
4 halibut filets
1 can baby shrimp
Fresh thyme
½ cup heavy cream
6 tbsp white wine
Salt and white pepper
1 lemon
Preparation
Heat the olive oil in a frying pan and add the halibut fillets.
Cook them over a medium heat for five or six minutes, turning once.
Add the prawns and two sprigs of fresh thyme and cook for another two minutes.
Season with a little salt, white pepper and lemon.

Meanwhile, make the sauce by putting the cream into a saucepan and heat gently, whisking with a small whisk.
Add the white wine, then the Bertozzi Freshly Grated, stirring until melted and smooth.

Serve the fish with the prawns.
Pour the sauce on top and garnish with the remaining thyme sprigs and more lemon.