Boneless Chicken Breasts with Vegetables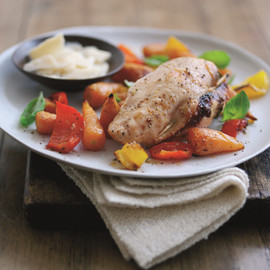 Ingredients
4 skinless boneless chicken breasts
4 tsp pesto
Bertozzi Wedge
Basil leaves
3 tbsp olive oil
Baby carrots cut in half
2 bell peppers, diced
1 red onion, thinly sliced
Salt and pepper
Preparation
Preheat the oven to 375°.
Using a sharp knife, slice a pocket into each chicken breast and open it up.
Spread one teaspoon of pesto sauce into each one.
Place a sliver of the Bertozzi Wedge cut to preferred thickness and size.
Top with the basil leaves, then close the pockets and secure with toothpicks.

Spoon two tablespoons of the olive oil into a roasting pan and add all the vegetables, tossing them to coat.
Season with a little salt and black pepper to taste.
Arrange the chicken breasts on top.
Sprinkle the remaining olive oil over them, and transfer to the oven.
Roast for 25-30 minutes, until the chicken is cooked and the vegetables are tender.