Parmigiano-Reggiano Puff Pastry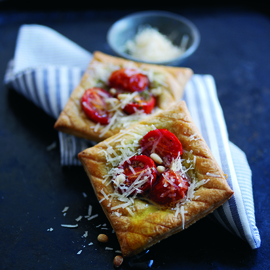 Ingredients
13oz fresh or frozen pastry dough
2 tbsp pesto
¼ cup Bertozzi Freshly Grated cheese
Cherry tomatoes cut in half
Salt and pepper
Whisked eggs or milk (to glaze)
2 tbsp pine nuts
Bertozzi Parma Flakes (to garnish)
Preparation
Preheat oven to 400°.
Lightly grease large baking sheet.

Unroll puff pastry sheet and cut into 6 equal rectangles.
Using a sharp knife, score a border about ¾ inch from edge in each rectangle.
Be careful not to cut into the dough.
Place on baking sheet.

Spread each inner rectangle with a little pesto sauce.
Sprinkle the Bertozzi Freshly Grated cheese on top.
Spread the tomatoes between the pastries.
Season with salt and pepper to taste.

Brush pastry edges with whisked egg or milk.
Bake for approximately 15 minutes.
Sprinkle pine nuts over the pastries then bake for more 4-5 minutes, until pastries have risen and are crisp.
Cool for 2-3 minutes then serve.
Garnish with Bertozzi Parma Flakes.