La Pizza Vesuvio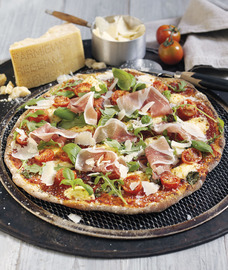 Ingredients
1 bag pizza dough
3-4 tbsp tomato sauce
Cherry tomatoes (cut in half)
3 tbsp mascarpone
Bunch, basil leaves
Bertozzi Freshly Grated slices
Prosciutto crudo
Arugula
Bertozzi Parma Flakes
Extra virgin olive oil
Preparation
Preheat oven to 425°.

Roll pizza dough and transfer to pizza or baking tray.
Brush pizza dough with olive oil.
Spread thin layer of tomato sauce over pizza base, except area that will become the crust.
Top with cherry tomatoes, dollops of mascarpone and handful of basil leaves.

Sprinkle over Bertozzi Freshly Grated cheese to taste. 

Bake for 12-15 minutes until crust is golden and the base is cooked through.

Top with arugula and remaining basil leaves, prosciutto, and Bertozzi Parma Flakes.