Seared Beef with Watercress, Chicory and Pear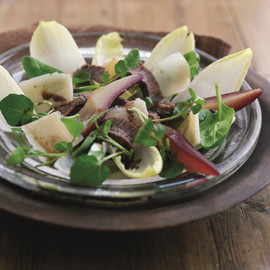 Ingredients
4 peeled firm pears
2 cups red wine
2 tbsp caster sugar
1 bunch watercress
Baby spinach leaves
1 head of chicory (or arugula if not available)
Beef filet
4 tbsp olive oil
Bertozzi Parma Flakes
Balsamic Vinegar
Black pepper
Preparation
Put the whole pears into a saucepan with the wine and sugar.
Heat and simmer gently uncovered, turning the pears until they are tender.
Carefully lift the pears from the reduced liquid and leave them to cool.

Place the watercress, spinach and chicory on a plate.

Preheat a pan on high for the beef.
Brush the rump steak with one tablespoon olive oil, then sear it for two minutes on each side.
Remove, cover with foil and leave to rest for five minutes.

Cut the pears into slices, removing the core, and arrange on the plate.
Slice the beef and place on the dish.
Add the Bertozzi Parma Flakes.
Drizzle the remaining olive oil over the plate along with a few drops of balsamic vinegar.
Serve sprinkled with freshly ground black pepper.