Poached Eggs with Asparagus and Parmigiano-Reggiano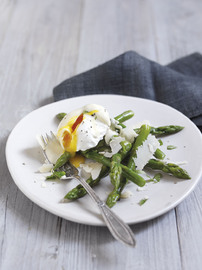 Ingredients
14 asparagus stalks
1 tsp olive oil
2 eggs
2 tbsp parsley, chopped
Bertozzi Parma Flakes
Salt and pepper
⅛ cup butter
1 tsp flour
½ cup milk
¼ cup cream cheese
Bertozzi Freshly Grated
Lemon zest
Preparation
To make the sauce, melt the butter in a small, heavy based saucepan over a medium-low heat.
Stir in the flour and whisk in the milk to thicken.
Stir through the cream cheese, and add Bertozzi Freshly Grated, lemon zest, salt and pepper to taste.
Keep warm and stir periodically to prevent a skin from forming.

Cook asparagus in boiling, salted water until tender (3-5 minutes).
Remove asparagus from the heat, drain and plunge quickly into ice-cold water.
Drain again and toss in olive oil, salt and pepper.

Meanwhile, poach the eggs in boiling water for 2-3 minutes.
To serve, lay spears of asparagus on two serving plates.
Top with poached egg and drizzle over lots of sauce.
Sprinkle over a little parsley and black pepper.
Top with Bertozzi Parma Flakes.