Fresh Calamari with Parmigiano-Reggiano Stuffing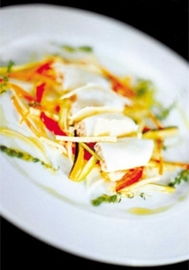 Ingredients
8 fresh whole squid (can substitute with frozen)
2 shallots
Prosciutto
1 cup Bertozzi Freshly Grated
⅛ cup bread crumbs
1 yellow onion
¾ cup white wine
Extra virgin olive oil
Salt and pepper
1 carrot
1 zucchini
1 leek
1 celery stalk
Capers
½ cup fish stock
Preparation
Prepare the stuffing by sautéing the shallot and the boiled squid tentacles.
When browned, add the white wine, the Bertozzi Freshly Grated, salt, the half onion and the breadcrumbs.
Cook for a few minutes and mix in a blender. 

Boil the squid for two minutes in salted water, drain and fill with the previously prepared stuffing.
Separately, sauté the finely sliced vegetables in olive oil by adding fish broth then cook for five minutes.

Add salt and pepper to taste.
Serve with a drizzle of olive oil.
Arrange the stuffed squid and the vegetables on a serving platter.