Butternut Squash Soup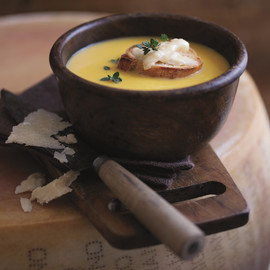 Ingredients
Bertozzi Wedge
1 ¾ tbsp butter
1 yellow onion, chopped
1 medium-sized butternut squash, chopped
3 cups vegetable stock
½ cup milk
Salt and pepper
Fresh parsley or thyme (to garnish)
Preparation
Melt the butter in a large saucepan.
Gently sauté the onion for about three minutes, until softened, but not browned.
Add butternut squash, vegetable stock and Bertozzi Wedge rind.
Heat until the mixture is just simmering, then turn the heat to low and cook gently for about 20 minutes, partially covered, until the vegetables are soft and tender.

Remove the rind and discard, then transfer the soup to a blender or food processor.
Add most of the grated cheese (from the wedge or Bertozzi Freshly Grated), reserving some for garnishing.
Blend the soup for 15-20 seconds, until completely smooth.
Return it to the saucepan and add the milk.
Stir thoroughly and reheat until piping hot.
Taste and adjust the seasoning.

Ladle the soup into warmed bowls, and sprinkle with fresh parsley or thyme and a little extra ground black pepper, then serve.