Pumpkin and Porcini Mushroom Risotto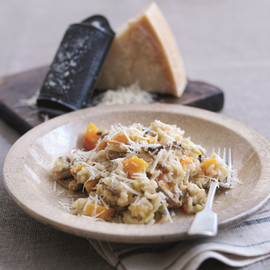 Ingredients
1 cup Bertozzi Freshly Grated
Bertozzi Parma Flakes
⅕ cup dried porcini mushroom
1 Vegetable bouillon cube
4 tbsp olive oil
1 ⅓ cup Arborio rice
1 scallion, chopped
½ butternut squash (or equivalent amount of pumpkin if desired) peeled and chopped
1 ¼ cup dry white wine
Salt and pepper
Preparation
Dissolve the bouillon cube in 2 ½ cups of boiling water.
Add the mushrooms and leave to soak for about 30 minutes.

When ready to cook, heat the olive oil in a deep frying pan or large saucepan.
Add the rice and sauté it gently over a medium heat for about one or two minutes, until it looks translucent, but not browned.
Add the scallions and butternut squash and cook gently, stirring often, for another two or three minutes.

Pour in the wine and let it bubble up for a few moments.
Add the soaked mushrooms and about two ladles of stock.
Cook gently for about 20-25 minutes, adding more stock as needed, until the rice is tender and creamy.

Stir in the Bertozzi Freshly Grated and season to taste.
Garnish with Bertozzi Parma Flakes, then serve.