Farro with Mushrooms and Pancetta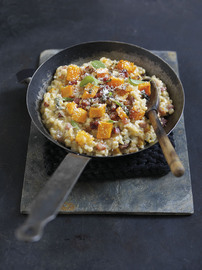 Ingredients
0,17 lb mushrooms
1 white potato
3 tbsp olive oil
Chopped sage
3 chopped garlic cloves
½ cup smoked pancetta cubes
2 tbsp butter
1 sliced spring onion
¾ cup White Wine
1 ¾ cups farro (could substitute spelt or barley)
1 cube chicken bouillon
2 tbsp Crème Fraîche
¼ Bertozzi Parma Flakes
Salt and pepper
Preparation
Put the chicken bouillon in a large pot and bring it to boil.
Once it boils, add the farr and let it cook.
It will take about 30 minutes.
Add salt and pepper as desired.
While the farro is cooking, in a sauté pan add 3 tbsp olive oil along with the mushrooms, the spring onion and the sage.
In a sauté pan, add some olive oil and sauté the pancetta until it is slightly crispy on all sides.
Drain the oil and set aside.
Once the farro is cooked, add the vegetables and the pancetta to the pot, stir for 1-2 minutes and serve.
Garnish with Bertozzi Parma Flakes.