Seafood Linguine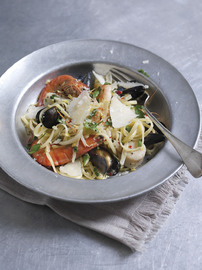 Ingredients
1 lb of linguine
1 yellow onion, chopped
3 garlic cloves, chopped
4 tbsp olive oil
Mixed seafood (mussels, shrimp, scallops, calamari)
1 lemon
¼ cup Bertozzi Freshly Grated
Salt and pepper
Parsley, chopped
Preparation
Cook the linguine in boiling, salted water according to pack instructions.
Drain and keep warm.

Meanwhile sauté the onion and garlic in olive oil over a medium heat for 3-5 minutes until softened and beginning to brown.
Add the seafood, stirring until cooked-through, then stir through the zest and juice of one lemon.

Toss the seafood mixture and half the Bertozzi Freshly Grated through the cooked linguine and serve, topped with more Parmigiano-Reggiano and parsley.