Chicken Puttanesca Pasta al Forno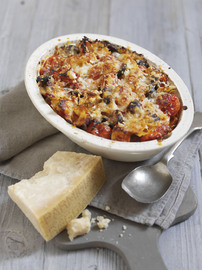 Ingredients
1 lb bowtie pasta
3 chicken breasts, cubed
1 tbsp olive oil
1 red onion, sliced
3 garlic cloves, crushed
Capers
½ red pepper flakes (to taste or if desired)
4 anchovies, diced
½ cup black olives, sliced
Cherry tomatoes
Canned strained tomatoes
Basil, chopped
½ cup Bertozzi Freshly Grated
Preparation
Cook pasta in boiling salted water according to pack instruction until al dente.
Drain and keep warm.

Preheat oven to 350°.
Sauté chicken in oil with onion, garlic, red pepper (if desired), capers, anchovies and olives for 3-5 minutes until browned.

Stir the fresh and canned tomatoes and basil.
Simmer for 5 minutes to reduce slightly.
Press tomatoes down to release their juices.
Add in ¾ of the Bertozzi Freshly Grated and season to taste.

Toss the pasta through the sauce and pour into a large ovenproof dish.

Sprinkle over the remaining Parmigiano-Reggiano.

Bake in oven for 20-25 minutes until golden.