Potato and Spinach Soup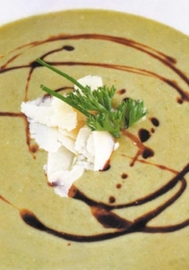 Ingredients
2 lbs spinach
4 potatoes (thinly sliced)
5 cups milk cream
¾ cup Bertozzi Freshly Grated
Bertozzi Parma Flakes
Balsamic vinegar
½ onion
1 tbsp butter
Water
Salt
Preparation
Dice the onion and sauté in butter.
Wash the spinach, and add to the onion.
Sauté the spinach until limp, without covering.
Add the thinly sliced potatoes, a pinch of salt and the Bertozzi Freshly Grated. 

Cook for a few minutes and add enough water to cover the ingredients.
Let boil for 15 minutes, then mix the ingredients in a blender.
Add the milk cream and mix.
Serve and decorate the dish with Bertozzi Parma Flakes and a dash of Balsamic vinegar.