Parmigiano-Reggiano Fondue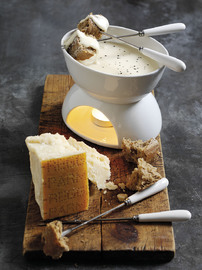 Ingredients
1 crushed garlic clove
½ cup white wine
½ lemon
1 ¼ cups heavy cream
Pinch nutmeg
Pinch white pepper
¾ cup Bertozzi Freshly Grated cheese(plus rind of Bertozzi Wedge, if available, for flavor.)
1 tsp corn flour dissolved in 1 tbsp of water
Toasted Bread and / or fresh raw vegetables for dippings
Preparation
Place garlic, white wine and the juice from lemon half in small, heavy-based saucepan.
Simmer 2-3 minutes to burn off alcohol.

Stir in cream, nutmeg, pepper and Parmigiano-Reggiano rind (if available).
Simmer 5 minutes.
Remove rind and discard.

Melt in the Bertozzi Freshly Grated cheese.
Add corn flour to thicken the fondue.

Taste and add additional seasoning if necessary.