Parmigiano-Reggiano Soufflé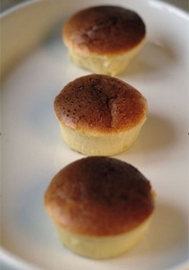 Ingredients
½ cup Bertozzi Freshly Grated cheese
½ cup flour
2 cups milk
2 tbsp butter
5 eggs
Salt and pepper
Preparation
Preheat the oven to 425°.
Mix flour with ½ cup cold water.
Pour the mixture into a pot, and with a low flame, gradually add the milk.

Turn up flame and before mixture comes to a boil, add the Bertozzi Parmigiano-Reggiano Freshly Grated cheese.
Remove from flame, continuing to stir while adding the egg yolks one at a time.
Salt and pepper.
Finally whip the egg whites and gradually add them to the mixture.
Pour into a buttered and floured mold.
Cook at 425° for approximately a half hour.