Linguine with Peas and Prosciutto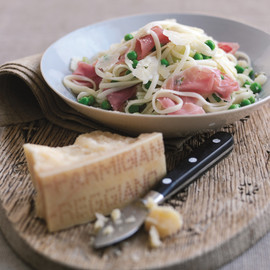 Ingredients
½ cup Bertozzi Freshly Grated (plus extra to serve)
1 lb linguine
¼ cup butter
Chopped scallions
4 tbsp dry white wine
½ cup peas
Prosciutto
Salt and pepper
Fresh basil
Preparation
Cook the linguine in salted boiling water following the pack instructions.

Meanwhile, melt the butter and sauté the green onions until softened, about two minutes.
Add the wine and let it bubble up for a few moments.
Stir in the peas and heat gently for one or two minutes.

Add 3 tbsp of the pasta water to the peas.
Drain the pasta.
Add the pasta, prosciutto and Bertozzi Freshly Grated to the spring onion and pea mixture.
Re-heat gently for a few moments and season.

Serve at once, with more Parmigiano-Reggiano and basil leaves.