Parmigiano-Reggiano and Rosemary Shortbread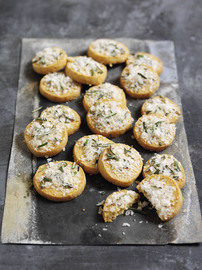 Ingredients
¾ cup flour
½ cup Bertozzi Freshly Grated
2 Egg yolks
Black pepper (to taste)
Garnish:
1 tbsp chopped fresh rosemary
¼ cup Bertozzi Freshly Grated cheese
Preparation
Mix together all shortbread ingredients to form a dough.
Knead gently until smooth.
Roll dough into cylinder, making sure each end is flat.
Wrap dough in plastic.
Refrigerate at least 45 minutes.
Meanwhile, preheat oven to 350°.
Remove dough and slice into rounds.
Remove wrap from shortbread edges and arrange on greased baking sheet.
Bake for 10-13 minutes or untile pale gold.
Remove from oven and immediately sprinkle with Bertozzi Freshly Grated and rosemary. 

Let cool before serving.