Summer Vegetables with Wild Rice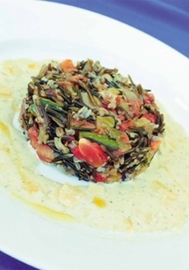 Ingredients
1 ¼ cups wild rice
1 zucchini
2 shallots
Ripe tomatoes
Pine nuts
½ cup champignon mushrooms
Cipollini (if available)
2 cups milk cream
Ground mustard seed
¼ cup butter
½ cup Bertozzi Freshly Grated
Salt and pepper
Preparation
Boil the wild rice in salted water for about 40 minutes.
Sauté the vegetables in butter and a pinch of salt and pepper.
Drain the rice and pour it into the frying pan with the vegetables.
Add the pine nuts.

Prepare a sauce by slowly heating the milk cream, and the Bertozzi Freshly Grated.
Season with salt, pepper and ground mustard seed to taste.
Arrange the rice on a platter and accompany with the sauce.