Savory Springtime Muffins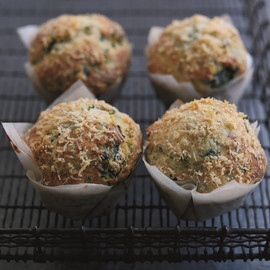 Ingredients
1 ¼ cups flour
½ tsp salt
1 tbsp baking powder
1 tsp Caster sugar
¼ cup Bertozzi Freshly Grated Cheese
½ cup spinach (boiled and chopped)
1 egg
1 cup milk
½ cup vegetable oil
Preparation
Preheat oven to 375°.
Put cupcake papers in slots on muffin pan (or line them with squares of greaseproof paper).

Put flour, salt and baking powder in a large mixing bowl.
Stir in the sugar and about 2/3 of Bertozzi Freshly Grated cheese and the spinach.
In a large bowl, beat the egg, milk and vegetable oil.
Pour the liquid mixture into the dry ingredients.
Using a metal spoon, stir until just combined.
Be careful to not beat or stir too much.
Mixture should be lumpy, with no traces of dry flour.

Spoon the mixture into the muffin tins.
Sprinkle the remaining Bertozzi Freshly Grated cheese on top.
Bake 20-25 minutes until mixture is risen and golden.
Serve warm.