Duck Ragù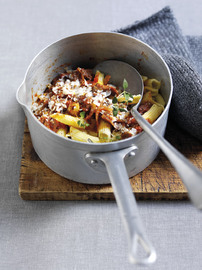 Ingredients
2 duck legs (with the skin on)
Olive oil
1 small yellow onion, chopped
1 celery stick, diced
3 crushed garlic cloves
3 tbsp tomato purée (strained tomatoes)
½ tsp rosemary
1 tbsp thyme, chopped
1 can diced tomatoes
2 tsp brown sugar
1 cup red wine
1 lb penne
½ cup Bertozzi Freshly Grated
Salt and pepper
Preparation
Preheat oven to 375°.
Rub the duck legs in olive oil, season and place on a baking tray.
Roast in the oven for 40-50 minutes until the meat is tender.
Let cool slightly.
Reserve the duck fat.
Take the meat off the duck bones and set aside.

Heat the reserved duck fat in a heavy-based saucepan and sweat the onion, garlic and celery until softened.

Stir through the tomato purée and herbs.
Add the wine, tomatoes and sugar.
Bring to simmering point, and cook for 45 minutes to an hour until the sauce has reduced and the meat is tender.
Season to taste.

Meanwhile, cook the pasta according to the directions on the pack.
Add the pasta to the ragù, along with Bertozzi Freshly Grated.

Serve topped with extra Parmigiano-Reggiano and thyme leaves.