Asparagus and Peas Risotto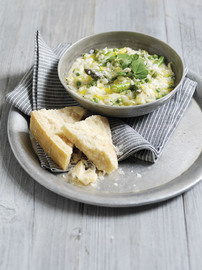 Ingredients
⅓ cup butter
1 yellow onion, chopped
2 garlic cloves, crushed
1 celery stick, chopped
¼ cup asparagus, chopped
1 ½ cups Arborio rice
⅘ cup white wine
3 cups Vegetable Stock
½ cup peas
2 tbsp crème fraîche
½ cup Bertozzi Freshly Grated
1 lemon
Salt and pepper
Olive oil
Preparation
Melt butter in heavy-based saucepan.
Sweat down the onion and garlic until softened.

Add in celery and half the asparagus. Cook for 2 minutes.

Add in Arborio rice and stir until coated in butter and translucent.

Add wine and stir until alcohol has evaporated.

Add 2 cups of stock, a ladleful at time, stirring until stock has been absorbed. 

Pour in remaining stock with asparagus and peas.
Bring to boil and stir until most of stock has been absorbed.

Remove from heat.
Stir in crème fraîche, Bertozzi Freshly Grated and the zest and juice of lemon.
Season to taste.

Serve sprinkled with lemon zest, Parmigiano-Reggiano.
Add drizzle of olive oil.