Pasta Primavera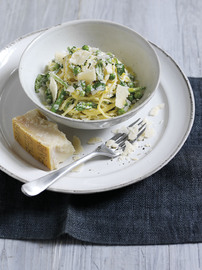 Ingredients
1 lb spaghetti
½ cup Bertozzi Freshly Grated
Bertozzi Parma Flakes
Asparagus stalks, chopped
½ cup peas
½ cup string beans, chopped
1 ½ tbsp butter
1 ¼ cup heavy cream
Basil leaves
½ lemon
Salt and pepper
Extra virgin olive oil
Preparation
Cook the spaghetti in boiling, salted water, according to pack instructions, until al dente.
Drain and add Bertozzi Freshly Grated and keep spaghetti warm.

Meanwhile, cook the vegetables separately in boiling,salted water (asparagus: 3-4 minutes, peas: 2-3 minutes, string beans: 2-3 minutes) then drain and quickly plunge into cold water.
Drain again.

Melt butter in saucepan and add it to the vegetables.
Cook over a low heat to reheat the vegetables for 2 minutes.

Add the cream, basil, lemon juice and zest from half the lemon, and black pepper to taste.
Add in the spaghetti and toss until it is well coated in sauce.

Serve topped with Bertozzi Parma Flakes, a little basil, lemon zest, pepper and a drizzle of extra virgin olive oil.