Cappellacci Verdi with Pesto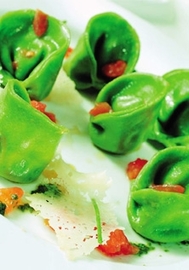 Ingredients
48 Blanks (3 in. diameter) of fresh green pasta dough
½ cup Bertozzi Freshly Grated
1 ¼ cups ricotta cheese
¼ cup walnuts
2 tsp sage
Salt and pepper
Fresh tomatos
1 shallot
½ basil
Pine nuts
1 clove garlic
Preparation
The Pesto: 

Remove the leaves from the stalk and wash them in cold water.
Blend with pine nuts, garlic and salt.
Add olive oil until it reaches the desired consistency.
Add Bertozzi Freshly Grated to taste. 

The Pasta:

Prepare the filling by mixing the ricotta cheese, the Bertozzi Freshly Grated, the ground walnuts and sage.
Salt and pepper to taste.
Then using a spoon, place a dollop of filling in center of the fresh pasta dough blanks.
Wet edge of the dough blanks, fold them in half and press the edge so that they do not open while cooking.
In a frying pan, add olive oil, sauté the diced tomatoes and the finely chopped shallot.
Boil the cappellacci in salted water.
Serve them hot with the tomato sauce and the pesto.
Decorate the dish with crunchy Parmigiano-Reggiano cheese made by heating up a handful of Bertozzi Freshly Grated in a non-stick pan.